"I thought at first the summit is a place i will come to hear about shares but on getting here, I get to understand in a better contest what economic freedom is"
"I have little to no understanding of what the free market principle and economic freedom entails before coming for this event. I am going back home fully loaded and ready to become an advocate of the principle."
Great team, great trainings. I just love all they do. The last summit they did in Ibadan in 2021 was an eye opener for me to the Free Market system. Looking forward to the Free Market tour for 2022
"I came to the summit with an open mind to learn because I am a writer, I can now explain what the free market principles and economic freedom entails in a simple language to anyone who cares to know. I also won the renowned 'The Adventure of Jonathan Gullible' book by Prof. Ken Schooland."
One thing I know about is that Face of Liberty International has offered a great platform for exercising and championing of free market Advocacy , and other free Society Principles. I have also had some good time with it's Team Leader Leon during the Africa Liberty Camp sharing on a number of Ideas and topics.
"I love the ways you articulate the idea of a free market in a simple, easy to understand language. Your use of illustration and real life scenario has really helped me in understanding this idea better than I was taught in school"
"I had thought the program was for farmers, I mean for agricultural awareness whereby some organizations will provide incentives for farmers deducing from the word "Free Market" but on getting to the program I got to know it was more than that. What is the essence of incentives without knowledge? This knowledge can not be for just myself alone, I will make sure I bring the FLI team to my community for them to get this knowledge as well if you will be willing to come down".
"This is a very good initiative, I have been longing to learnt this skill for a long time ago, and now i have it. I want to thank the organisation for bring this initiative and their donors. And i pray that the donors will always have and the organisation will always grow in might and strength. Please do come back with more training to help more women."
"I learnt soap making via Telegram during the pandemic of 2020. Coming for this training has helped me to see better way in which I can make my product come out better and more presentable. I have also learnt new and better ways to produce liquid soap and air freshener."
Face of Liberty International is one of the great organization to work it. As a Volunteer, I've learnt so much in terms of Free Market economy and individual liberty. I'd recommend face of liberty to any vibrant folks who wants to go into sharing the ideas of liberty. Last event I attended with face of Liberty was awesome and I look forward to attending more events with face of liberty.
A think Tank organization that is out to Change the Climate of Ideas in Africa. They have been able to connect libertarian organizations and well-meaning individuals in African countries to the ideas of Liberty and provided them with the needed Resources to Carryout their Various Activism and project, Face of Liberty International is alway open for Collaboration and partnerships, I have participated in some of their Program, Like Africa Readers Club, Free Market Seminar and online media Production.
Face of Liberty International is an innovation and knowledge hub with dedicated leader working tirelessly to transform societies across Africa by offering trainings, mentorship programs and supporting young innovators to fulfill their aspirations.
I was introduced to FLI by a friend during the #IFMS2020 in Ibadan, Nigeria. I gained a tremendous amount of knowledge during the program. I can't wait for the Free Market Project Tour they are embarking on to reach my location again. FLI is the future of Free Market Advocacy in Nigeria
The hope of society is evident in the reflections this think tank shines. Elevating the hibernating treasures of humanity from the untapped zones of ignorance, laziness, and fear and displaying them to the high places of trade, education, and exposure. It serves the need for its existence in society
Face of Liberty International, led by Leonard A. Ogunweide, has the commendable mission of helping Africa achieve greater freedom. Freedom is its own virtue, and it fosters peace and prosperity. The organization's current project, the Free Market Summit Tour, is sharing the importance of economic freedom through events across Nigeria. Leonard is dedicated and determined and has the growth mindset essential for success. I have been impressed by the organization's work and expect great things ahead.
Face of Liberty International is a grassroots organization that is at the heart of promoting liberty ideals, and free market in Africa. They share unorthodox opinions about freer Africa, and organize activism events to enlighten youths about the numerous benefits of libertarianism in Africa.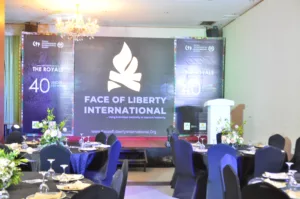 Update
Young Entrepreneurs International Summit (YEIS) and Face of Liberty International partnered to honor the nation's top 40 Under 40 CEOs at the prestigious Oriental Hotel