"I thought at first the summit is a place i will come to hear about shares but on getting here, I get to understand in a better contest what economic freedom is"
"I have little to no understanding of what the free market principle and economic freedom entails before coming for this event. I am going back home fully loaded and ready to become an advocate of the principle."
"I came to the summit with an open mind to learn because I am a writer, I can now explain what the free market principles and economic freedom entails in a simple language to anyone who cares to know. I also won the renowned 'The Adventure of Jonathan Gullible' book by Prof. Ken Schooland."
"I love the ways you articulate the idea of a free market in a simple, easy to understand language. Your use of illustration and real life scenario has really helped me in understanding this idea better than I was taught in school"
"I had thought the program was for farmers, I mean for agricultural awareness whereby some organizations will provide incentives for farmers deducing from the word "Free Market" but on getting to the program I got to know it was more than that. What is the essence of incentives without knowledge? This knowledge can not be for just myself alone, I will make sure I bring the FLI team to my community for them to get this knowledge as well if you will be willing to come down".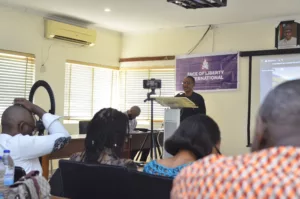 Update
The World Day of Justice was celebrated around the globe on February 20th, with people and organizations coming together to promote a more just and