A Three-Day Training Program by Face of Liberty's Mmepe Obodo Project Transforms Lives in Creek Town
Creek Town, June 13, 2023 
In a transformative initiative aimed at empowering women and enhancing their economic stability, the Mmepe Obodo Project by Face of Liberty International recently concluded a highly successful training program in Creek Town, Odukpani Local Government of Cross River State, Nigeria. The three-day event, which took place from June 8 to June 10, 2023, brought together over 120 women eager to learn valuable vocational and entrepreneurial skills. Beyond economic empowerment, the program also addressed critical health concerns, particularly among mothers of children suffering from kwashiorkor and marasmus, through a partnership with the Healthy Child and Adolescent Initiative.
The Creek Town Project, a part of Face of Liberty's broader Mmepe Obodo initiative, focused on providing women with practical skills that can enable them to become economically stable. Participants were given hands-on training in various vocational areas, including pastry making (such as donuts, popcorn, and zobo drink), soap making, and bead making. These skills are not only marketable but also have the potential to generate sustainable income for the women, ultimately improving their quality of life.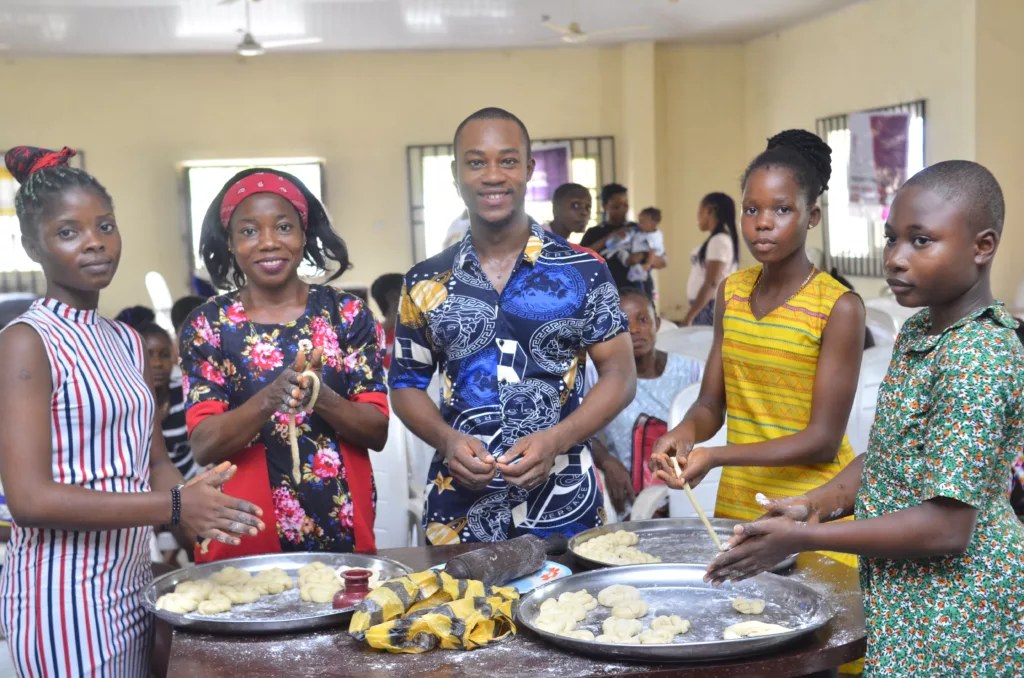 Recognizing the importance of holistic well-being, the program went beyond vocational training. The Face of Liberty International partnered with the Healthy Child and Adolescent Initiative to educate participants about their health and ways to improve it. Special attention was given to mothers of children suffering from kwashiorkor and marasmus, two severe forms of malnutrition.
Health experts conducted informative sessions on nutrition, hygiene, and disease prevention. Mothers received guidance on how to provide balanced and nutritious meals for their children, with an emphasis on addressing the specific nutritional needs of children affected by kwashiorkor and marasmus. The program also offered counseling and support to these mothers, creating a network of mutual assistance and care.
The Creek Town Project was met with enthusiasm and gratitude from the participants. Many expressed their newfound confidence in their ability to earn a sustainable income and provide better lives for their families.
Mrs. Ikwor, a participant and mother of a child recovering from kwashiorkor, shared her thoughts: "This program has given us hope and the means to improve our lives. Not only can I now make delicious pastries to sell, but I also have the knowledge to ensure my child gets the right nutrition to recover from malnutrition. I am truly grateful to Face of Liberty and their partners."
The Creek Town Project is not just a short-term initiative but part of a larger effort to uplift communities by empowering women and addressing pressing health issues. By equipping women with practical skills and health knowledge, Face of Liberty International is sowing the seeds for a brighter and more prosperous future in Creek Town and beyond.
This initiative demonstrates the power of collaboration between non-profit organizations, local communities, and health experts in making a tangible impact on the lives of vulnerable populations. As the Creek Town Project concludes, the ripple effects of this training are expected to create a more economically stable and healthier community, setting an example for others to follow in the ongoing pursuit of positive change.
Our work is financed by sponsorships and donations, which play a crucial role in sustaining our mission and enabling us to make a meaningful impact in the community and beyond. Your generosity can truly make a difference. We kindly ask you to consider making a donation today to support our cause. Your contribution, no matter the size, will go a long way in helping us achieve our mission. Please click the 'Donate Now' button below and be a part of the positive change we are working towards.