by Alimot Akinsanya
Ekiti, Nigeria – July 8, 2023
In a powerful demonstration of commitment to fostering sustainable business practices and collaboration, the Ekiti Business Summit 2023, organized by the renowned non-governmental organization Face of Liberty International, unfolded at the Federal University Oye-Ekiti's New Faculty of Science Auditorium on July 7, 2023. The event brought together a diverse and distinguished gathering of entrepreneurs, industry leaders, and visionaries, creating a dynamic platform for knowledge exchange and inspiration.
The summit's theme, "Building Sustainable Businesses," set the stage for a day filled with discussions, insights, and strategies aimed at promoting the longevity and resilience of businesses in today's ever-evolving economic landscape. The event commenced with an opening address by Dr. Akinsorota, the Director of Entrepreneurship at FUOYE, who passionately underscored the importance of entrepreneurship and critical thinking in all careers. He set the tone for the day by challenging attendees with the phrase, "If you are not thinking, you are stinking."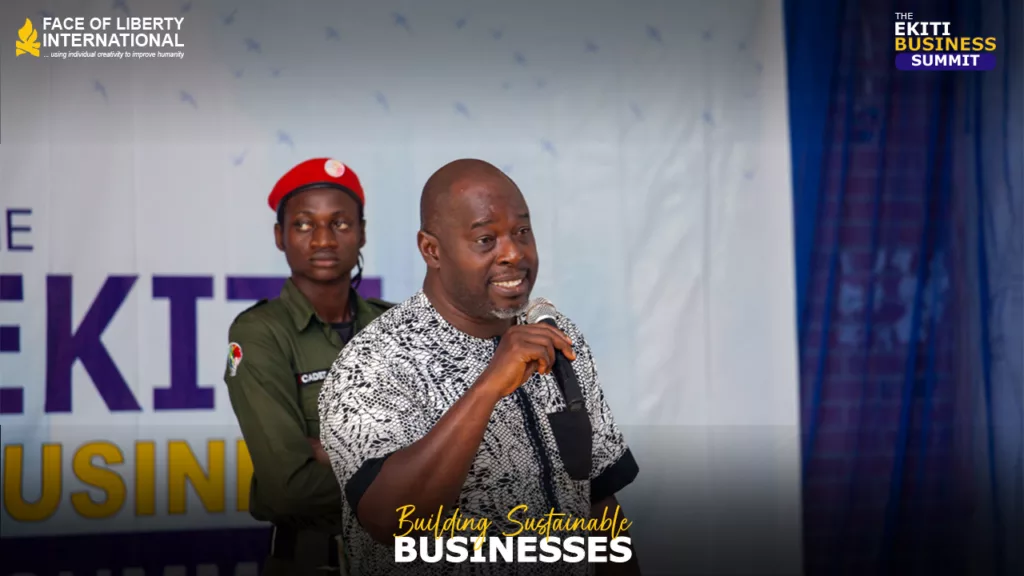 Dr. Akinsorotan addressing the participants
Mr. Leonard Ogunweide, the CEO of Face of Liberty International, delivered a compelling keynote address that encapsulated the organization's noble mission. Ogunweide emphasized their unwavering commitment to working with individuals and businesses dedicated to removing obstacles to human success. He further articulated their ambitious goal of instilling a sense of liberty in every African, an inspiring vision that resonated throughout the summit.
A pivotal moment of the day came with the keynote address by Mr. Abayomi Ogundile, a seasoned entrepreneur. Ogundile shared the remarkable journey of his own entrepreneurial ventures, offering invaluable insights into what it takes to build and sustain successful businesses over time. He placed a strong emphasis on the need for resilience and meticulous planning, stating, "For a business to be truly sustainable, it must be built on solid foundations and possess the flexibility to adapt to changing circumstances."
The summit featured a series of engaging panel discussions, each moderated by experts in their respective fields. These discussions provided attendees with diverse perspectives on entrepreneurship and sustainable business practices.
The first panel, moderated by Victoria Eeguranti, featured business luminaries Cracky Brown, Ogunranti Bayo, and Tony Alonge. They explored the opportunities and challenges facing businesses today, emphasizing the importance of adaptability and innovation.

Dr. Dotun Famoriyo, the guest speaker, delved into the policies affecting sustainable businesses in Nigeria. He highlighted the necessity of collaboration among various stakeholders to create a supportive ecosystem for businesses to thrive.

Another panel session, moderated by Okoro Elizabeth, focused on supporting women entrepreneurs. Lois Adeniji, Bukunmi Adrwuyi, and Solomon Deborah shared their experiences and proposed innovative solutions to enhance access to finance and resources for women in business.

The final panel, moderated by Omolodun Ayomide, featured successful entrepreneurs Victor, Banigbe Oyinlola, and Joshua Bature, who shared their insights on navigating the unique challenges and opportunities within the FUOYE community.
As the summit drew to a close, attendees and participants applauded the organizers for their remarkable efforts in creating an event that not only provided valuable insights but also fostered connections among the business community. Mr. Leonard Ogunweide presented awards to the winners and runners-up of the 2023 Ekiti Business Summit Article Writing Competition, celebrating the spirit of entrepreneurship and innovation.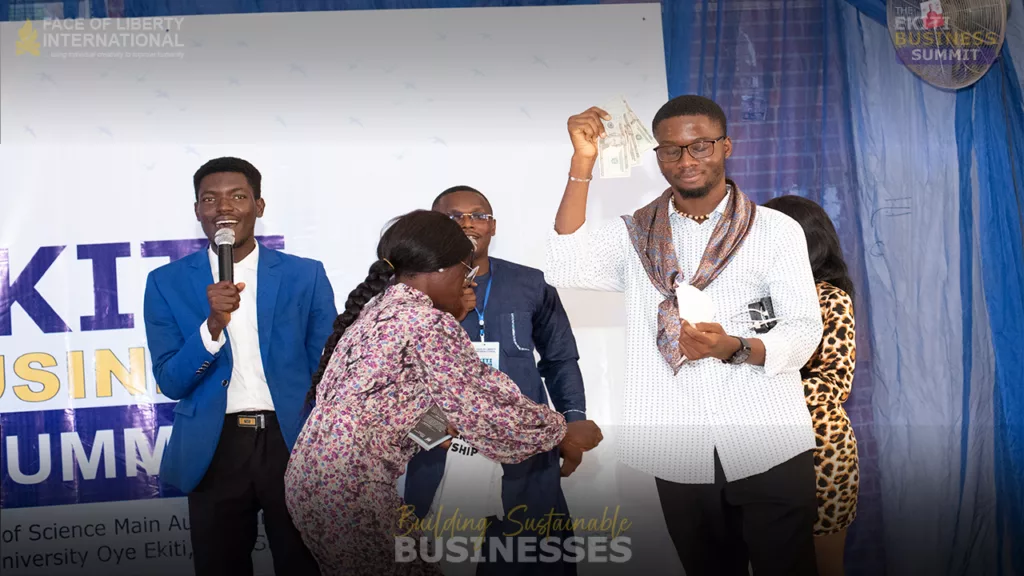 In summary, the Ekiti Business Summit 2023 was a resounding success, leaving attendees inspired and armed with the knowledge and motivation to drive sustainable businesses forward. It served as a testament to the power of collaboration and the potential for positive change within the entrepreneurial landscape of Ekiti and beyond.