Prior to the intervention, physical examinations and nutrition status checks was conducted at the Primary Health Centre in Creek Town 1 in Odukpani Local Government Area of Cross River State, Nigeria. The results portrayed most young children exposed to malnutrition, some of which were severe especially kwashiorkor and marasmus. These assessments were carried out by students undergoing SIWES (RURAL POSTING) from the Department of Public Health in the University of Calabar, few of which where members of the Resolution Revitalization Initiative (RRI) now known as Healthy Child And Adolescent Initiative (HCAI).
Malnutrition is a critical public health issue and the primary cause of morbidity and mortality on a global scale. Among the most vulnerable population, children under the age of five, acute malnutrition poses a severe threat. This condition is characterized by rapid-onset severe wasting, leading to substantial health complications and even mortality. The objective of this report is to assess the effectiveness of an intervention targeting children afflicted by acute malnutrition in the specified area. Acute malnutrition among children under five years old represents a significant concern due to its potential impact on their health and well-being. This severe form of malnutrition requires urgent attention and intervention to prevent further health deterioration and potential fatalities.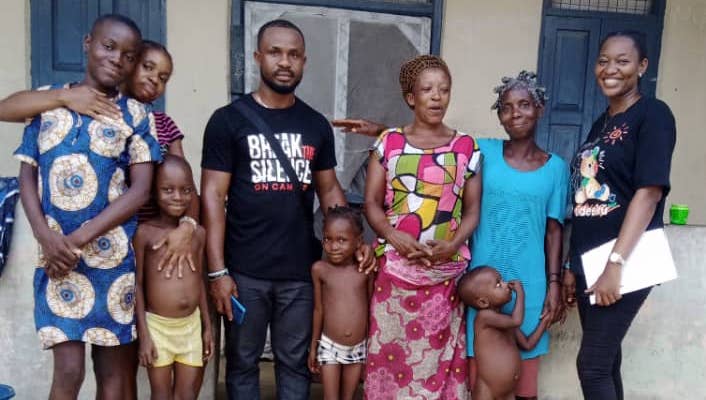 The Intervention
After rigorous planning, the intervention was executed on the 7th of December, 2022, generally for children with no specified age in the area of concern. There was availability of vital health supplies like multivitamins, assorted fruits, already-made thombrown, recipe to make thombrown. Mothers were present with their children in their numbers.
The intervention commenced with an introduction and an opening speech by the founder, Mr. Kingsley Ekpenyong Inang, he proceeded to sensitize the mothers on the proper health care practice for their children and also explained that the intervention will be in three phases.
The head of the facility in person of Mrs Uyi with her professionality sensitized the mothers on the need for their child's health care. Exclusive breast feeding amongst others was highlighted as very crucial for 0-6 months babies. Procedures for thombrown production with the provided ingredients was taught to the mothers as an easy to produce and nutritious meal was necessary to assist low income parents.
Out of the host of children who were present, the students and health workers in the facility identified 7 under 5 children suffering from kwashiorkor and marasmus and were given a multivitamin syrup each including fruits and already-made thombrown.
13 malnourished children on physical examination were given multivitamin syrup each and remaining multivitamin were given randomly to other children. Fruits as well as already-made thombrown supplies were distributed to the malnourished and other children with emphasis on thombrown production for provision of nutrient to aid vulnerable children. Apart from fruits refreshments were available for the children including mothers as well.
At the end of the exercise 86 children and 43 women (mothers included) were recorded. Other documentaries like pictures and videos were taken.
THE HEALTHY CHILD AND ADOLESCENT INITIATIVE (HCAI) FORMALLY KNOWN AS RESOLUTION REVITALISATION INITIATIVE (RRI) IN PARTNERSHIP WITH JC-FOUNDATION